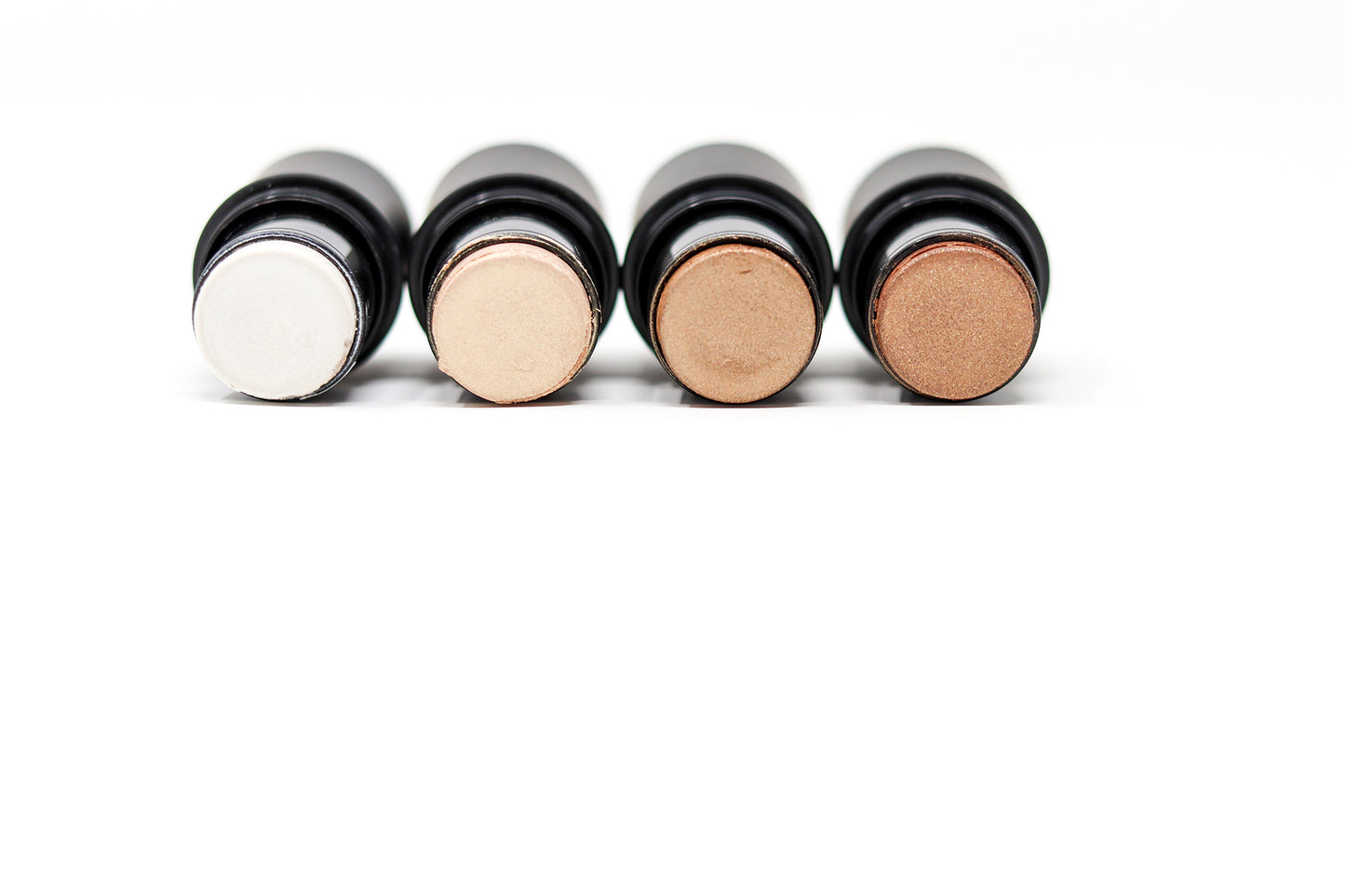 Organic Bronzer for a Sun-Kissed Glow
Bronzer can be a girl's best friend all -year round because it is the go-to product to give you a sun-kiss glow. They can give you a matte or shimmery glow, but a few strokes can lift your cheekbones, define your features, and create a radiant just-left-the-beach look.
The Ingredients for Our Natural Bronzer
Here at Taylor Made Organics, we believe that the most important part of your skincare is its ingredients. The ingredients of makeup are incredibly important because not all makeup is created equal. I know you've heard me state this many times, but it is true. Using natural ingredients in our products is something that we're incredibly proud of as your makeup is working to keep your skin healthy while you're wearing it!
Not only that, many makeup products use harmful ingredients, such as parabens, which are harmful to women's endocrine systems and disturb hormone levels. Parabens are one of the TOP ingredients found in bronzers. As you can see from looking at any product on our site, we DO NOT use parabens in any of our makeup products. Another harmful ingredient is talc, which can cause skin sensitivities and is harmful if inhaled. We DO NOT use talc in our makeup products but organic rice powder instead. Rice powder has a natural oil-absorbing property that gives your skin a flawless finish all day long!
I could list a few more ingredients, but I think it is important for you to research your current makeup ingredients to see for yourself what you are putting on your skin daily and if it is harmful. I'm always happy to answer your questions about the ingredients as well!
We don't only use primarily organic ingredients with some filler ingredients; all of our ingredients are carefully sourced to only give you the safest organic ingredients for healthy skin! Our natural and organic bronzer is made using only the best natural minerals and nourishing ingredients to support your skin health and give you a sun-kissed glow - even if you have sensitive skin!
Organic Bronzers Ingredient List - Only Natural Minerals & Ingredients
Powder compact ingredients: *Rice Powder, Silica, *Jojoba Seed Oil, Magnesium Stearate, *Grape Seed Oil, *Oregano Leaf Extract, *Thyme Extract, *Olive Leaf Extract, *Rosemary Leaf Extract, *Lavender, *Goldenseal Root Extract, Tocopherol (Vitamin E).  May Contain/ (+/-):  Mica, Titanium Dioxide (CI 77891), Iron Oxides (CI 77491), (CI 77492), (CI 77499)
Multi-stick ingredients: *Ricinus Communis (Castor) Seed Oil, *Copernicia Cerifera (Carnauba) Wax, Glycerine, Stearic Acid, Zea Mays (Corn) Starch, Isostearyl Palmitate, Xanthan Gum, *Helianthus Annuus (Sunflower) Seed Oil, *Origanum Vulgare (Oregano) Leaf Extract, *Thymus Vulgaris (Thyme) Extract, *Cinnamomum Zeylancum (Cinnamon) Bark Extract, *Rosmarinus Officinalis (Rosemary) Leaf Extract, *Lavandula Angustifolia (Lavender) Flower Extract, *Hydrastis Canadensis (Goldenseal) Root Extract, Vanilla Planifolia. [+/- May Contain]: Non-Nano Natural Iron Oxide Minerals, (CI 77491, 77492, 77499), Titanium Dioxide (CI77891), Mica (CI 77019)] *Certified Organic
*Certified Organic *Vegan
The Benefits of Organic and Natural Bronzers
Our natural and organic bronzers are formulated with organic, naturally clean ingredients. Choose from a cream multi-stick or powder, we have a bronzer for everyone! Each of our natural bronzers has a subtle, shimmer, and buildable glow to complement your natural skin tone. They are blendable, luminous, high pigmentation, and can be used for contouring or an all-over healthy glow. Use on cheeks, eyes, and lips.
Why choose organic bronzer?
Gentler on your skin over time: Many conventional makeup products contain unnecessary fillers and irritants that are hard on your skin over time. In some cases, these harsh chemicals can cause damage to the skin. Many makeup products created with natural ingredients will not have these fillers and irritants that conventional makeup products do, promoting the health of your skin, rather than harming it.
Nutrient-Rich: Your skin absorbs the compounds that are put on top of it. With natural and organic ingredients, your skin is absorbing nutrients and compounds that are beneficial and doesn't have to absorb those that are harmful and full of chemicals and toxic ingredients.
Earth-friendly: Typical makeup products are made with ingredients that often have a detrimental effect on our environment. Manufacturing of makeups that are full of chemicals will put those chemicals and others out into the air and water. When organic products are created, fewer chemical fumes are released into the air, affecting fewer natural resources and wildlife.
Avoid irritation: Artificial colors and scents, chemicals, and filler ingredients in skincare and makeup products can cause redness, irritation, breakouts and more! Many people even suffer from allergies that chemicals in makeup products can exacerbate. Using organic, natural makeup products will work for your skin health, rather than against it.
No weird side effects: I know that I talk about them a lot, but parabens are used in most makeup and beauty products manufactured today as a preservative to extend the shelf-life of these products. However, paraben is synthetic and will mimic your body's natural hormones. With this happening, many worry that the use of parabens will alter the functions of your body's endocrine system. Artificial ingredients like parabens may be helpful for the product itself, but when you combine the product and your skin, it can have some weird side effects. Using organic and natural bronzers and makeup products will only expose your skin to natural preservatives that won't affect your body!
How to Use
Our organic bronzer pressed powder is super easy to use! Simply apply to cheeks, eyes, or lips and blend in. To apply our bronzer as a highlighter, with a sweeping motion, apply to the high-points, cheekbones, brow bones, cupid's bone, and the bridge of your nose. Simple blend in with clean hands or a makeup brush.
Our organic bronzer multi-sticks are best applied across the forehead, bridge of nose, and cheeks for an all-over-glow. Simply blend the bronzer in with clean hands or a makeup brush or sponge.
How to choose the right shade to give your skin tone a natural, sun-kissed look:
When choosing a bronzer, pick one that is one or two shades lighter than your skin tone. Being able to know your skin's undertone helps as well! Whether your skin's undertone is is cool, neutral, or warm, you want to make sure that the bronzer shade that you choose works with your skin tone as much as possible. You can typically determine your skin's undertone by looking at the veins that are visible. Blue veins mean that you have cooler undertones; green veins mean that you have warmer undertones; blue-green veins typically mean that your skin's undertones are neutral. An alternative method is to see what jewelry suits your skin tone! If you wear silver, you have a cooler skin tone; if you wear gold, you have a warmer skin tone; if you gravitate towards both silver and gold, you have a neutral skin tone.
Check out our live virtual mirror in the bottom left of our site to preview what our bronzer shades may look like on you!
Final Thoughts
At Taylor Made Organics, we always recommend that our customers educate themselves on the ingredients that are in their makeup products. Educating yourself on the ingredients in drugstore brands compared or organic, naturally clean makeup will help you see how important it is to use non-toxic makeup products. Yes, it is more expensive, but can you really put a price on taking care of your skin? Knowing your skin absorbs 60% of what you put on it, wouldn't you prefer rice powder and not talc? Lavender and Rosemary and not parabens? Natural scents instead of synthetic fragrances?
Give your skin a natural, sun kissed glow without harming your skin and providing nourishment to it with clean, non-toxic or harsh ingredients. Take care of your skin because you are worth it!