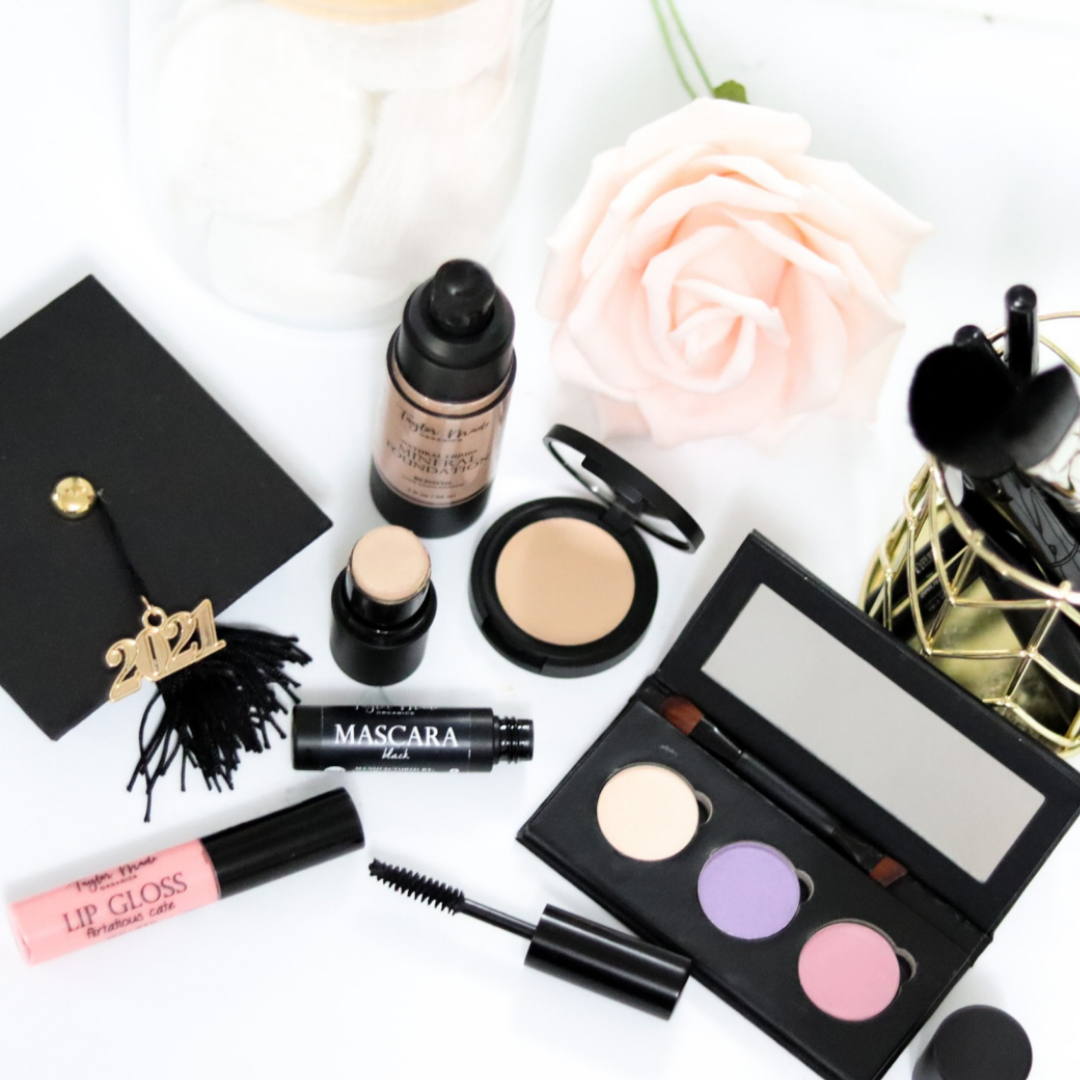 You did it, now it's time to celebrate!
How exciting to celebrate a graduates long earned journey. From studying, hanging out with friends, transitioning from one school to another will have a lasting impact on our life. 
One of these 2021 graduates is our middle daughter, Cate, founder of Cate's Cosmetics. While in her senior year of high school, Cate launched an organic, naturally clean makeup line DURING a pandemic. But that didn't stop her from trudging forward to fulfill her dream. 
Yesterday, she and I were mailing announcements to family and friends. I have to give credit to our oldest daughter, Taylor, who created beautiful announcements and Sidney from Sidney Leigh Photography for capturing Cate in her cap and gown. 
As we placed the envelopes in the mailbox, friends from high school had mailed their announcements to our family. To see their smiles and anticipation to graduate and fulfill their dreams spoke loudly in their faces. 
Education is power...
I'm sure the graduate doesn't want to hear another lecture, but I believe if you want to be more powerful in life, educate yourself. Five more minutes will be all I need to slip in a moment of truth. 
Graduates, not all makeup brands are created equal. Drugstore brands use toxic questionable ingredients like parabens, bismuth, phthalates, colors or dyes, mineral oil, and talc in their products. I encourage you to look up each of these ingredients and read for yourself how harmful they are. Not only do they add toxic ingredients to their products, they even test them on animals. 
Cate's Cosmetics DO NOT contain questionable ingredients. Our makeup line is filled with healthy ingredients to nourish your skin, skin-loving oils to hydrate and moisturize, and extracts to compliment your skin tone. Each product is vegan, gluten-free, and most importantly, cruelty-free.
Graduation Gifts...
Having a teenage daughter, I know how much teens love makeup. What better way to celebrate the long-earned journey than with organic, naturally clean makeup! Like my teen, they love to try on makeup products to see how each product or shade best compliments their skin. Makeup products like lip gloss, mascara, makeup brushes, makeup remover, or eye shadow palette capture teens attention. This gift will not be another makeup product, but the gift of long-lasting healthy skin. 
Next chapter begins now...
Congratulations 2021 graduates. You've achieved numerous milestones and many more will be achieved. Don't ever stop learning, growing or being who you were created to be. Take care of your skin now because later on in life, you will appreciate this tiny gold nugget.
"The future belongs to those who believe in the beauty of their dreams."
– Eleanor Roosevelt
xoxo,
Taylor Made Organics